With the large-scale shuttering of brick and mortar stores in the past few years, combined with major department stores filing for bankruptcy, it's safe to say that e-commerce has surpassed traditional retail. Such is the importance of online retailing that even mighty luxury brands have been pushed to refocus their strategies.
All of this occurred even before COVID-19 struck. The pandemic has undoubtedly shaken the fashion and beauty industry to its very core, making it clear that conventional business models won't work going forward. A digital-first approach is not only vital but might even be the only option in certain cases, thus guaranteeing technology a front-row seat in the future of the trillion-dollar industry.
While the immediate future of fashion entails digital Fashion Weeks and showrooms, the beauty world isn't far behind. A long-standing obstacle to cosmetic e-commerce has been the inability to try on products. That is now changing with the help of technology. Enter: Augmented Reality (AR)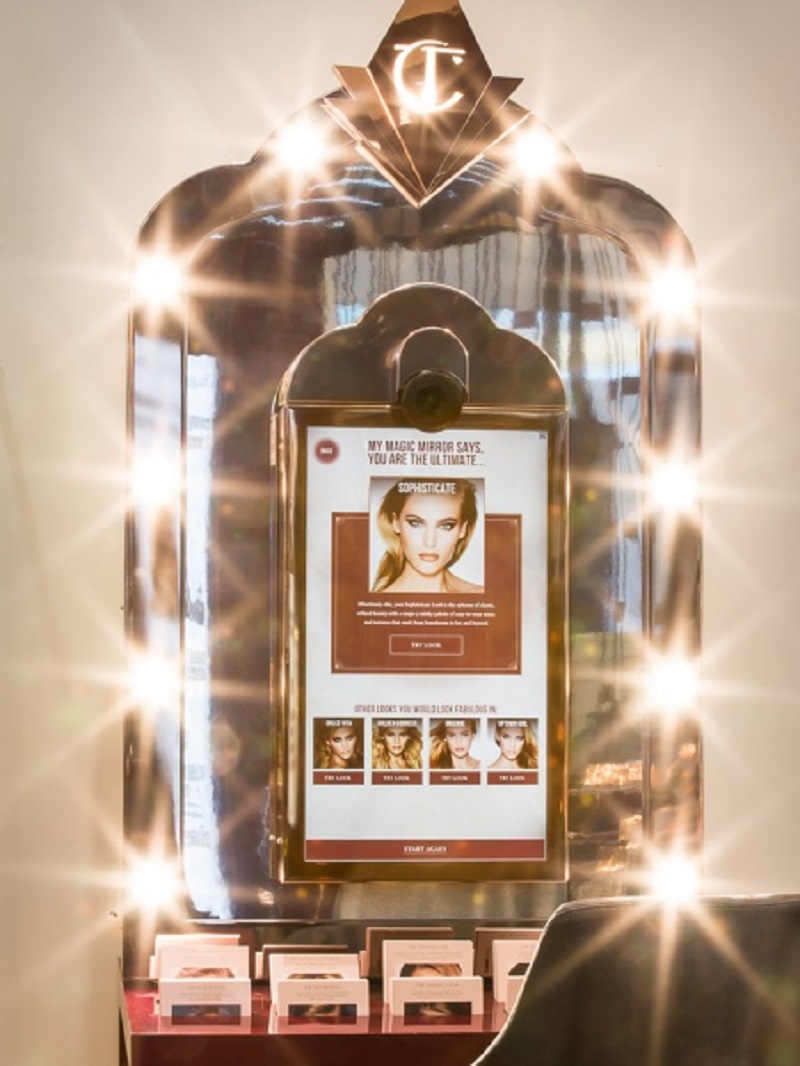 AR features have existed in our lives for a while in the form of social media filters and makeup apps. It was just a matter of time before beauty brands capitalized on the tool. While some brands like Sephora and Charlotte Tilbury were already experimenting with in-store AR features, integrating the technology into e-commerce websites is a gamechanger for the cosmetic world.
It is vital, now more than ever, for the beauty industry to explore virtual try-on features even with beauty stores and counters reopening — as testers will most likely be a thing of the past, and hygiene will be of the utmost concern. Scroll down to discover the brands that now enable you to try on – either live or by uploading a picture – a range of beauty products before you hit buy.
1 Chanel Beauty
Give yourself a virtual makeover with Chanel Beauty's try-on tool. Not only does it feature a range of lip colors, eye shadows, and eyeliners, but it also lets you play around with the intensity of your chosen shade. What's even better is that Chanel's beauty platform lets you try on all three products at the same time to help you figure out the entire look instead of an individual product.
2 
Bobbi Brown
Try it on live or upload a photo to explore Bobbi Brown's lip and eye products. Allowing you to tap through a variety of shades in a matter of seconds, you can literally (virtually) try on the brand's entire range of eye and lip makeup.
3 
MAC Cosmetics
Can you imagine experimenting with over 200 shades of lipstick, going back and forth until you make a pick? This might not be possible in-store, but MAC Cosmetics' virtual try-on feature lets you swipe through its entire lipstick range. That's not all. You can also get a digital makeover for your eyes with the eyeshadow and mascara collections.
4. Maybelline
Get ready for a complete digital makeover with the Maybelline AR tool, which allows you to play around with everything from lipsticks and contours to brow fillers. In addition to that, the brand even offers a 'Foundation Shade Finder' feature to assist you in picking the best-suited product for your skin type.
5. Sephora Virtual Artist
Sephora's virtual beauty platform will have you spending hours playing around with makeup. Not only does the Sephora Virtual Artist platform let you search and try on products, but it also has a selection of pre-created looks where you can play around with the intensity according to your preference and buy the products used.
The AR feature also allows you to customize your look down to the last detail. Whether you want your eyeliner winged or just a bit of eyeshadow on the corner of your eye, it's possible to experiment in a matter of seconds.
While the website does not have a live experience, you can either upload a picture or use the available model photos.
6.
YSL Beauty
What makes the YSL Beauty virtual tool unique is that it lets you simultaneously try on four different shades of lipstick, making it easier to compare and choose the best fit. Apart from the lip range, you can also have a go at their wide selection of highlighters, blushes, and mascaras.
7 
NYX Professional Cosmetics
Similar to Sephora, NYX Cosmetics also enables users to try on a wide range of products along with pre-created occasion-based looks. While the products include just about everything from eyeliners to highlighters, you can even explore 'work from home' make-up looks on the platform.
Nguồn: https://www.savoirflair.com/beauty/500706/beauty-brands-using-augmented-reality