The global professional hair care market size was valued at $18,072 million in 2017, and is anticipated to reach $23,601 million by 2024 at a CAGR of 4.1% during the forecast period.
Nowadays, numerous consumers are more concerned about the hair aesthetics and scalp nourishment. There is an increase in demand for hair styling, dyeing, straightening and other hair treatments by the consumers without compromising the hair and scalp health. These factors have significantly increased the demand for professional hair care products thereby spurring the professional hair care market.
The growth of the global professional hair care market is driven by fluctuation in hair style trends, rapid increase in disposable income, population growth, and rise in air pollution across the world. Moreover, increase in use of professional hair care products in developed regions and growth in adoption of organic ingredients are expected to create a lot of opportunities for the hair coloring products, and shampoo manufacturers to create a mass customer base. However, the high cost of such premium and professional products, and involvement of hazardous chemicals to soften hair hampers the global professional hair care market.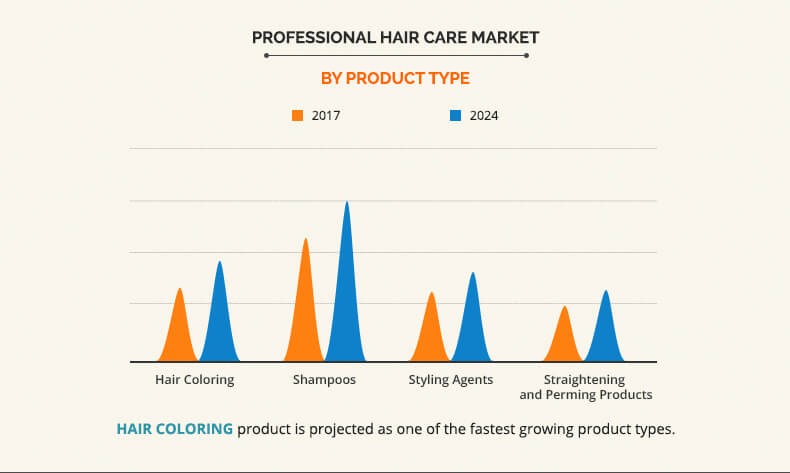 The global professional hair care market is segmented based on product type, distribution channel, and geography. Based on product type, the professional hair care market is classified into hair coloring, shampoo, styling agent, and straightening and perming product. Shampoos generated the maximum revenue in 2017, and is expected to remain dominant throughout the analysis period, as shampoos are tailored according to variations associated with hair quality, age, hair care preferences, and specific scalp related problems, which significantly increases the demand for shampoos.
Based on distribution channel, salons in the professional hair care market accounted for the maximum share in 2017. Consumers prefer a pre-purchase advice from hairstylists owing to their deep knowledge of product compatibility and expertise in the hair care field, which augments the demand for professional products from salons.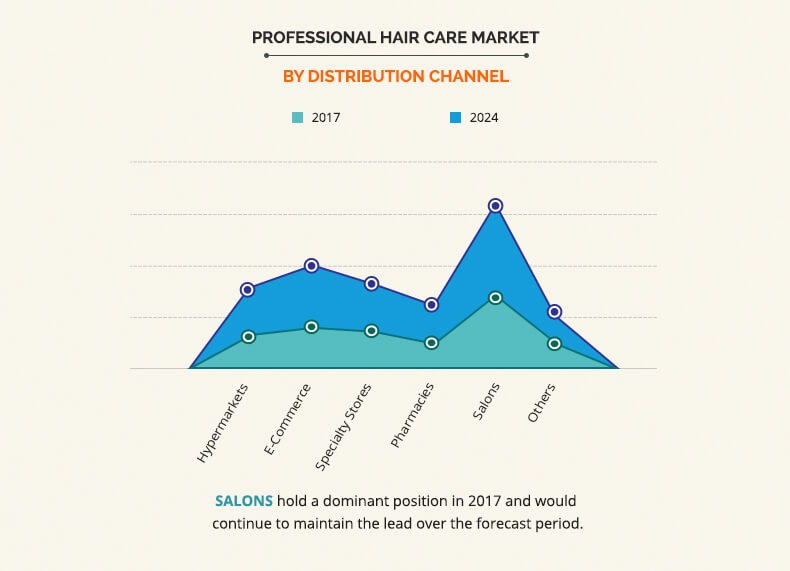 Geographically, the professional hair care market is analyzed across North America, Europe, Asia-Pacific, and LAMEA. North America accounted for the highest revenue in 2017. The market growth in North America is driven primarily by innovations in the emerging professional hair care products such as dry shampoo, professional smoothing conditioner, dye protecting agents, and dry hair styling products. Despite the 2008 recession in the U.S, the professional hair care market witnessed exponential growth in this country, which has continued till date.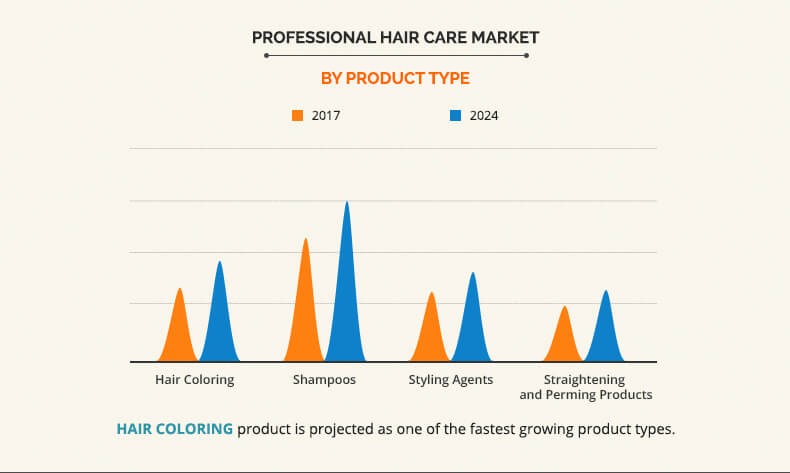 The prominent players operating in the global professional hair care market have strategically focused on product launch as their key strategy to gain significant share in the market. The key players profiled in the global professional hair care industry include L'Oreal Group, Henkel AG & Co., Procter & Gamble Co., Unilever Corporation, Kao Corporation, Aveda Corporation (Estee Lauder), Avon Products Inc., Revlon Inc., Olaplex, and Pai Shau.
Source alliedmarketresearch.com