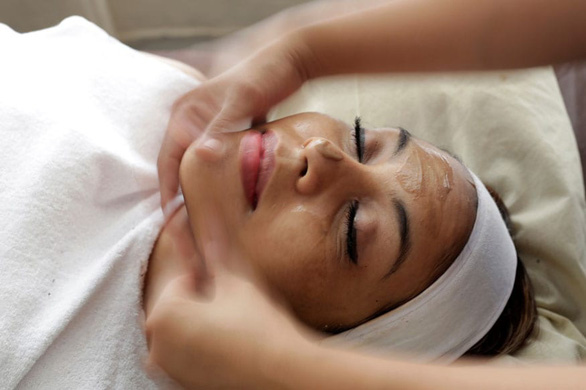 Advances in science make the beauty industry, especially skincare, benefit. The following five skincare trends are considered to be in vogue and are expected to bring attractive beauty to women.
Wearable skincare technology
Wearable technology is being considered a "highlight" in the fashion and sports industry. In 2018, a French cosmetics company launched a skin beauty product called My Skin Track UV sensor clip (UV sensor clip) capable of measuring UV exposure.
The device is attached to clothing or bags, to warn users when exposed to UV radiation, with recommendations to apply sunscreen when necessary.
The UV sensor clamp was born from many previous studies, starting from the UV Patch patch, then improved to the UV Sense skin sensor and now the UV clamp. The device uses LED technology and a near-field communication antenna to collect photon data and feed it to a mobile phone via an app.
Skin scanning device
The American skin scanner or dermatoscopy is a compact, hand-held personal tool that helps diagnose skin after facial analysis at home without the need to visit a dermatologist. This device provides a close-up view of the skin with the help of the phone camera.
It can scan the user's skin, scan the pores, thereby analyzing data on skin condition, skin hydration level and appearance of wrinkles, rating the skin from 0 to 100. points, then show how to improve skin over time.
Users can view magnified images on their phone, along with personalized skincare recommendations. Each scan and its results are stored in the app to provide customized skincare solutions tailored to the individual, each specific moment.
Sonic Technology
Sonic technology, also known as sound waves (Sonic Technology), was once used for oral hygiene and is now applied to skincare such as a face wash, which is considered very useful to beautify and clean the face. In just a short time, the skin will be clearer and softer. At this time, just a little powder can make the face more radiant.
For the group with acne skin, there is no need to worry anymore, the ultrasonic face wash device can be used to wash your face daily with any type of facial cleanser, exfoliating, facial massage, etc.
Beauty based on structural features
Structural analysis and testing companies are currently working to bring to the market personalized skincare products. It addresses beauty concerns related to "geonomy" or skin texture of each person, not mass use as it is today.
Pioneers have Proven, a startup in San Francisco, USA. Proven is working on an ambitious project that evaluates skin properties based on age, melanin levels, ethnicity and lifestyle. Thereby, manufacturers apply products with the principle of beauty for each individual based on skin structure, lifestyle, living environment… so it helps to create appropriate skincare to Get the skin you want and fit.
Realistic calibration and virtual reality-based calibration
Before this technology is applied for beauty purposes, the customer must be tested for a number of criteria to decide whether to have surgery or not. But now with the help of augmented reality (Augmented Reality or AR) and virtual reality-based calibration (Virtual Reality or VR), invasive testing assessments are no longer necessary. This is the beauty service of the future, now trusted by many women.
Many people want to experience a virtual application for skin diagnosis at home. This beauty technology brings many advantages, especially to the group of busy women. It is increasingly evolving, perfecting with the help of AI (artificial intelligence), robots, or high-tech mirrors… so the ability to assess skin conditions such as wrinkles, aging, fine lines, color uneven skin tone, dark circles, spots and pores both quickly and precisely.