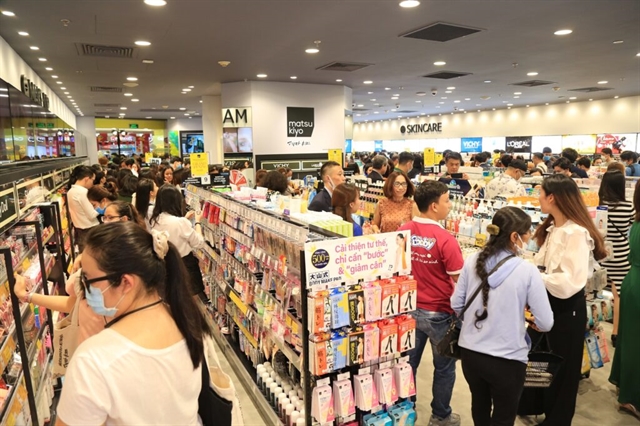 The beauty and personal care product market in Vietnam is large and growing. U.S. exporters should consider entering this dynamic market.
Beauty and personal care revenues are projected to reach $2.3 billion in 2021 and grow at a 5.9% compound annual growth rate through 2025, according to Statista.com.
Beauty & personal care imports accounted for $954 million in 2019, with imports from the U.S. accounting for $85.4 million, according to the U.S. Bureau of Census Foreign Trade database. The top five U.S. exports to Vietnam are cosmetics ingredients, make-up and skincare, shaving products, hair care products, and soaps for washing the skin. U.S. exports to Vietnam grew in 2020 despite the pandemic, led by increases in exports of cosmetic ingredients (+$5.8 million) and shaving products (+$4.6 million). Decreases in U.S. exports to Vietnam were seen for make-up and skincare (-$3.1 million) and oral and dental hygiene products (-$1.4 million).
Other major sources of beauty & personal care imports include Singapore ($311 M), Thailand ($137 M), the European Union ($108 M), Korea ($80 M), and China ($82 M). Foreign brands make up 90% of the cosmetics market in Vietnam. Korean brands have the highest share at 30%, followed by brands from Europe (23%), Japan (17%), Thailand (13%), and the U.S. (10%). Local Vietnamese brands usually focus on affordable, low-end cosmetics.
Long-term trends that have been driving growth include greater financial independence for working women, greater interest in natural & organic products among the youth, and greater attention to grooming by men. Growth disposable income levels and the construction of new shopping malls and department stores have created opportunities for global brands to directly reach out to affluent customers.
The pandemic in 2020 greatly accelerated the use of e-Commerce using websites including Shopee, Lazada, and Tiki. E-Commerce suits consumers who have increasingly teleworked at home and become more price-conscious. The trend is expected to continue due to the convenience of having things delivered. A rebound in sales of cosmetics is expected in the latter half of 2021 and early 2022 when more people will return to in-person workplaces.
Local distributors interviewed by the Commercial Service in Vietnam say there are a number of products they are looking to add to their lineup in the near future.  One distributor is looking for natural and organic cosmetics and skincare products for men and children. Another distributor is looking for cosmetics and skin care products with catchy packaging. A third distributor is looking for skin cleansing masks, body wash, cotton balls, bandages & wound aid. U.S. products generally have a positive market perception in Vietnam. They are viewed as being high quality, natural, organic, vegan, and animal testing-free. However, the higher price points often required by U.S. exporters can make them less competitive.
The Drug Administration of Vietnam regulates cosmetic product registration. The four steps of cosmetic product registration are 1) appoint an importer or a distributor in Vietnam; 2) preparation of a submission dossier including evidence of Good Manufacturing Practices, a Certificate of Free Sales, a Letter of Authorization, and product ingredient data; 3) submission of the application dossier and payment of the required government fees; and 4) receipt of a cosmetic product proclamation number.  The Letter of Attorney and Certificate of Free Sale from the manufacturer or brand owner must be legalized by the Vietnamese Embassy or a Vietnamese Consulate General in the U.S.