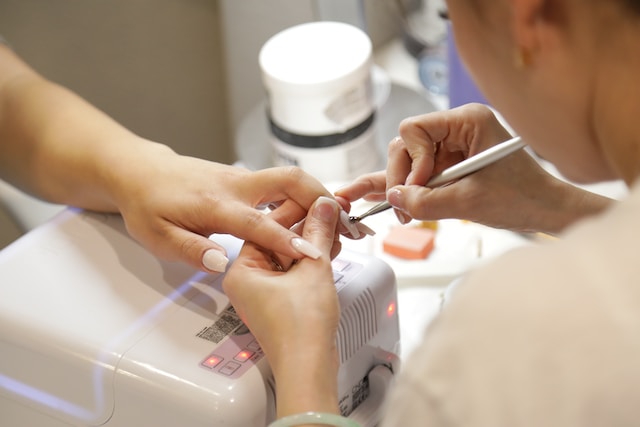 For many ladies, small details like a pretty nail set will be an important highlight, helping them to be more confident. Therefore, nail care is now also a top concern along with other beauty fields. How did the nail industry develop? What are the development opportunities in the nail industry? Beautycare Expo will help you discover this hot industry.
History of nail industry
The nail industry has a long history of development, but to have a step into becoming a separate industry, it was not until the 20th century when Vietnamese Americans developed into a profession for the Vietnamese community here.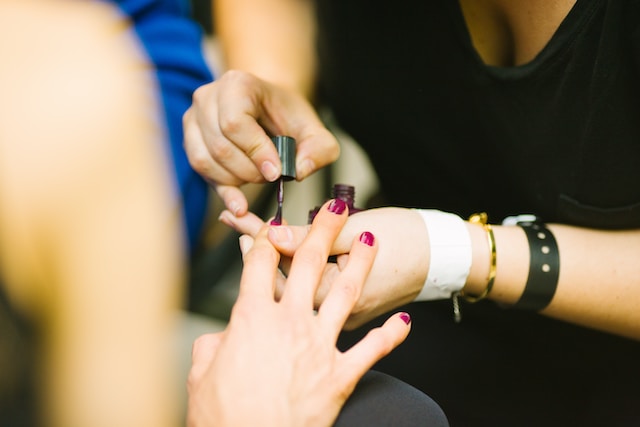 Photo by Kris Atomic on Unsplash
Anyone, young or old, just needs to spend a short time about 400 hours for a vocational course and a small amount of capital, approximately $50 to buy a set of nail tools. You were able to work and go anywhere to earn money. For many people, nail art is not simply a job to make money, it is also an art with great spiritual value.
The current state of the nail industry in Vietnam
At first, nail art was just a part-time job, for amateurs and hobbyists. However, in recent years, the nail market has exploded strongly, with the professionalism, investment and development interest of salon owners. The system of nail machines, Design – Setup space layout is methodically imported from abroad. The nail profession is increasingly popular, affirming its position as a part of the beauty industry.
There are an estimated 10,000 nail salons across the country, especially concentrated in big cities like Hanoi, Ho Chi Minh City, Da Nang, etc. This is a great career potential, creating opportunities for unskilled workers pursuing nail careers and suppliers of related equipment and services.
Because Vietnam does not have many nail equipment manufacturers, the machines are mainly imported from abroad such as China, the US, Japan, Korea, etc. But they are imported goods, under-quota, and have not been tested for quality. .
Beautycare Expo is a prestigious specialized beauty exhibition, which brings together domestic and international nail tool manufacturers. The exhibition is a bridge between manufacturers, providing nail services closer to consumers, salon owners as well as distributors of nail tools. Join Beautycare Expo to expand business cooperation opportunities:
Register for a booth at Beautycare Expo 2023: https://beautycarexpo.com/dat-gian/
The future of the nail industry in Vietnam
With the increasing demand for beauty, the development opportunities of the nail profession are very open in Vietnam. The potential development market in the country will bring job opportunities and revenue for service providers, machinery and equipment for the nail industry.
Photo by Maria Lupan on Unsplash
It can be seen that in the future, Vietnam's nail industry will continue to develop in both quantity and quality. Even reaching the world level, because the Vietnamese nail market is getting more and more open, the quality of machines and working styles are also more modern, industry insiders are becoming more professional.
To access and experience new nail products, tools and equipment, new nail design trends, register to attend Beautycare Expo now to discover.
Register to attend the Exhibition: https://beautycarexpo.com/dang-ky-tham-quan-online/
Trade registration: https://beautycarexpo.com/dang-ky-Giao-thuong-2/
Contact Info:
The International Exhibition of Beauty Products, Technologies and Services – Beautycare Expo 2023
Email: beautycare@beautycarexpo.com
Website: https://beautycarexpo.com
Fanpage: https://www.facebook.com/BeautycarExpo
Adpex Joint Stock Company Organizing Committee
Address:
Head office: Room G3, FOSCO TNVP, No. 6, Phung Khac Khoan, Da Kao Ward, District 1, HCMC
Hanoi: Room 310, No. 142 Le Duan, Kham Thien Ward, Dong Da District, Hanoi
Phone number:
HCMC: +84 28 3823 9052
Hanoi: +84 24 3516 2063
Mail: adpex@adpex.vn
Source: Various