Referring to the popular cosmetics of young people today, it is definitely impossible to ignore the cosmetics originating from Korea. Along with the Hallyu wave (Korean Wave) is a phenomenon where Korean products (such as K-pop, dramas, etc.) are popular abroad, Korean cosmetics are also popular among young Vietnamese people in Vietnam. very popular now.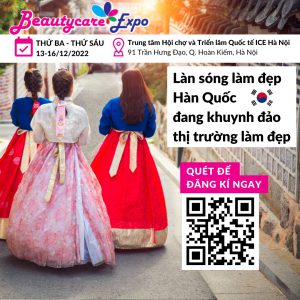 There are many reasons why Korean cosmetics are so sought after. First, Korean cosmetics have a reasonable price, in line with the spending level of consumers. However, the price is low, but the cosmetics are still invested in and produced with very high quality. Beautiful, eye-catching designs, good product quality, and carefully invested. Korean cosmetics also launched many products with natural ingredients, gentle for the skin, and suitable for Asian beauty trends.
With the e-commerce platform being very popular today, Korean cosmetics are sold everywhere. And it is challenging for us to distinguish genuine products when the current counterfeit products are being renewed with very similar designs to the originals. In order to prevent these bad situations from happening in time, and give consumers the most prestigious quality products, it is essential that both online and offline cosmetic stores earn for themselves —the most reputable and quality cosmetic products.
Registering Vietnam Beautycare Expo 2022 in Hanoi is the best way to experienceK thousands of products, and technology, update the HOT beauty trends, expand business network with decision makers from Korea. B2B Matching Program will be organized throughout 4 days from 13 to 16, December 2022 at ICE, 91 Tran Hung Dao, Hoan Kiem District, Hanoi, Vietnam.
𝙍𝙚𝙜𝙞𝙨𝙩𝙚𝙧 𝙉𝙊𝙒: https://beautycarexpo.com/en/dat-gian/
𝗩𝗶𝗲𝘁𝗻𝗮𝗺 𝗕𝗲𝗮𝘂𝘁𝘆𝗰𝗮𝗿𝗲 𝗘𝘅𝗽𝗼 𝟮𝟬𝟮𝟮 – 𝗛𝗮𝗻𝗼𝗶 𝗘𝗱𝗶𝘁𝗶𝗼𝗻
𝗗𝗮𝘁𝗲: 𝟭𝟯 – 𝟭𝟲 𝗗𝗲𝗰𝗲𝗺𝗯𝗲𝗿 𝟮𝟬𝟮𝟮
𝗧𝗶𝗺𝗲: 𝟬𝟵𝗵 – 𝟭𝟳𝗵
𝗩𝗲𝗻𝘂𝗲: 𝗜𝗖𝗘, 𝗛𝗮𝗻𝗼𝗶, 𝗩𝗶𝗲𝘁𝗻𝗮𝗺